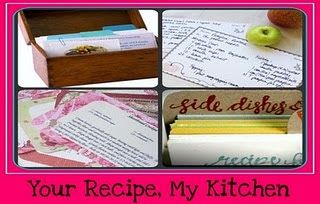 The best laid plans sometimes just don't work out. I had one last bag of Hershey mint kisses in my fridge that I simply had to use before I moved. I found a wonderful recipe for a chocolate cookie with mint chips on
Fat Girl Trapped in a Skinny Body
in that sounded amazing. Then I realized that my cocoa was packed. Time for Plan B.
I ended up with a more traditional chocolate chip cookie batter. I added peppermint extract straight into the dough and then threw in chocolate chips with the kisses. I didn't take the time to chop the kisses so some of the cookies had a red and white layer in the center. They were stellar cookies...definitely a make again recipe.
2 sticks butter, room temperature
3/4 cup sugar
3/4 cup brown sugar
2 eggs
1 1/2 tsp vanilla
1/4 tsp peppermint extract
2 1/2 cups flour
1 tsp baking soda
1/2 tsp salt
1 bag Hershey mint kisses (chop if desired)
1 cup chocolate chips
Cream butter and both sugars. Add eggs and flavorings, mixing well. Dump in flour, soda and salt and then mix. Stir in the kisses and chips. Scoop onto cookie sheet and bake 350 degrees for 8-10 minutes or until brown around the edges. Let cool for 1-3 minutes on the baking sheet before moving to a wire rack to cool completely.
Your Turn! I added an extra day to link up in case you are too busy on the 4th!
Tweet